Mountain Man Sold Out Levon Helm Studios for Intimate Performance
The sun shone across the beautiful woods, and glistened on nearby lakes, surrounding Levon Helm Studios as fans gathered in eager anticipation of Mountain Man. Zephyr, the barn pup, greeted each car at these hallowed grounds. It was peaceful, as the sold out crowd entered one of New York States most treasured venues, last Saturday, June 1.
Singer songwriter from Toronto, Doug Paisley, began the evening with a cozy set of original songs from his new album, Strong Feelings, recorded in his hometown. His beautiful imagery synced brilliantly with intricate guitar work. Paisley also charmed the audience with his storytelling, setting the mood for a very intimate show.
Mountain Man took the stage, surrounding one microphone. Amelia Meath, Alexendra Sauser-Monnig and Erin Sarle all took turns on lead vocals, switching places and positions to find their perfect harmony points. Sarle and Sauser-Monnig also alternated on the guitar for several songs throughout the evening. The performance was stunning and mesmerized the audience. One could hear a pin drop at any point of the evening, excluding a thunderous applause after each song.
The performance felt like you were sitting around a campfire in the woods, or at a laid back house party with best friends. It carried a wonderful weight and elegant presence that left all applauding and wanting more. Each of the three women made everyone feel comfortable and at ease with laid back jokes and stories.
The night before they had actually returned to Bennington, VT where they all met eight years ago and began Mountain Man, during College. Judging from the response they received at Levon Helm Studios and their tour dates quickly selling out, we are certainly lucky that they met all those years ago, and have reunited again.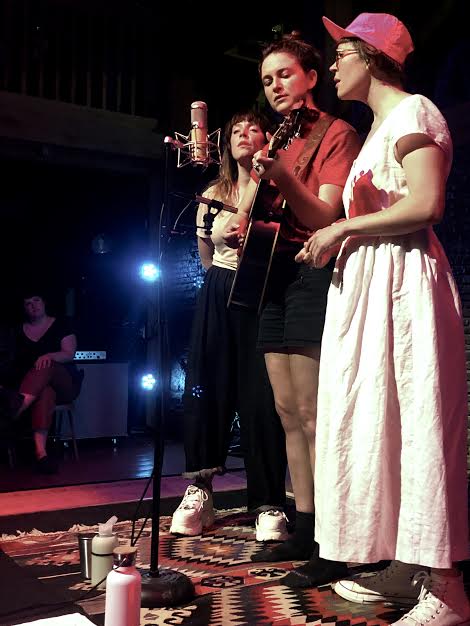 For Mountain Man tour dates, and to get their new album 'Magic Ship' check HERE.
For upcoming shows at Levon Helm Studios follow this link HERE.