LIVE: Rob Thomas' Message Warms Cool Night at Saratoga 7/24/2019
Rob Thomas' Chip Tooth Tour rolled into Saratoga on Wednesday, July 24, complete with some great opening acts, messages of gratitude and music celebrating both past and present. Although there was a smaller crowd for the venue, fans filled in to hear singer/songwriter Chris Trapper and the thunderously joyful Abby Anderson before Thomas took the stage at 9pm.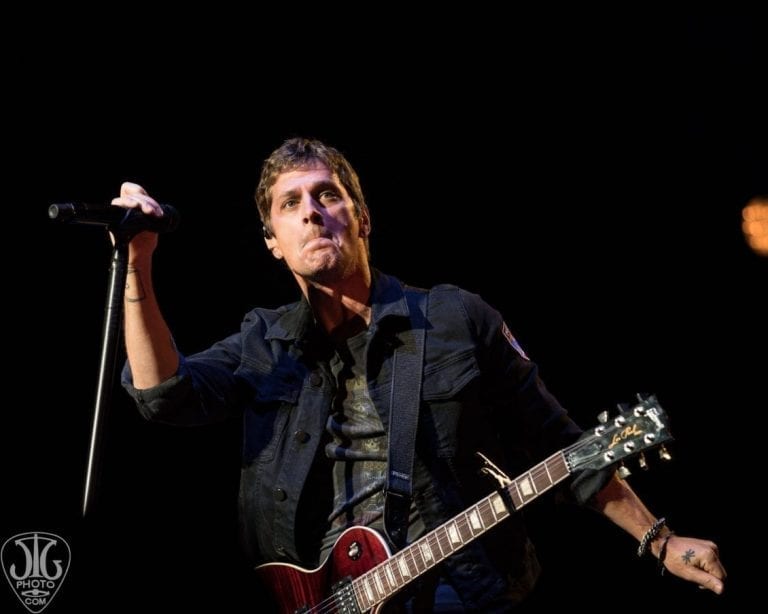 Rob Thomas is the lead singer of Matchbox Twenty, and he brought the rock star spirit in his dramatic entrance on stage. With lights flashing in time with the drum set, punctuating his presence, Thomas strode on stage, ceasing movement with generous pauses in light, sound and movement. The fierce guitar lick danced with Thomas, who ran backward high kneeing across stage. And in a moment it was clear: he's a rock star – with or without his famous band.
Thomas welcomed the crowd after his second song, saying hello to Saratoga with a large grin. He added, 'Here's the thing. We'll do this show tomorrow night, and we played it last night. But nothing is more special than this show tonight.' And so started the message of the evening to be present and enjoy the moment. Thomas would reiterate this both in lyrics and words, chatting with the crowd throughout the evening – celebrating life's every day moments in song and story.
From "Her Diamonds," which acknowledges with brutal honesty loving someone with chronic pain, to the more folksy "The Great Unknown," a song about death, Thomas' desire to communicate his message resounded with authenticity. He invited Chris Trapp back up to sing Trapp's original song about death, which was mashed up with Thomas' "happy little song about death" in a joyful and honest moment on stage.
During "Streetcar Symphony," Thomas expressed gratitude to his opening acts and fellow musicians on stage with him. He was clear in using his talent and velvety voice to share his wisdom to celebrate life in all its moments. Thomas talked about a time with his dogs on tour when he wrote "Little Wonders" for a movie soundtrack that made him recognize the joy in life through his animals.
Thomas covered David Bowie's "Let's Dance," getting the crowd dancing in their aisles. After a full set of 17 songs, his fans called him back for an encore performance of "…Something to Be," followed by loved Matchbox Twenty song "Unwell" and Santana's "Smooth." He was visibly having a great time, dancing and moving like the rock star he has become, without the rock star attitude. Instead he demonstrated generous gratitude, sharing the applause and calling his opening acts back to perform with him.
Thomas lives his message. He was present in the moment, and loving every minute of it.
Setlist: I Love It, Real World '09, Lonely No More, Her Diamonds, If You're Gone (Matchbox Twenty song), Can't Help Me Now, The Great Unknown, Streetcorner Symphony, One Less Day (Dying Young), Little Wonders, Fire On the Mountain, Let's Dance (David Bowie cover), 3 A.M., Ever the Same, Someday, I am an Illusion.
Encore: …Something to Be, Unwell, Smooth (Santana Cover), This is How a Heart Breaks.