We Are Golden: Arlo Guthrie Celebrates Woodstock 50th Anniversary at Bethel Woods
Fifty years after the 1969 Woodstock Music and Art Fair, many original festival goers and younger crowds alike returned to the site of the original festival to mark the golden anniversary at Bethel Woods Center for the Arts.
Last night opened the weekend with a performance by Arlo Guthrie, who bridged August 15 and 16, 1969 with a midnight set all those years ago. Though a bit scaled down from the crowds of approximately 400,000 in 1969, the few thousand people in attendance brought their old memories back to life (minus the mud and inconveniences); they were able to soak in the atmosphere – breathe air that's never been breathed before, as Woodstock/Bethel Woods mainstay Duke Devlin said. Guthrie was the only artist to perform, but fellow Woodstock alum Melanie Safka stopped by for part of the evening.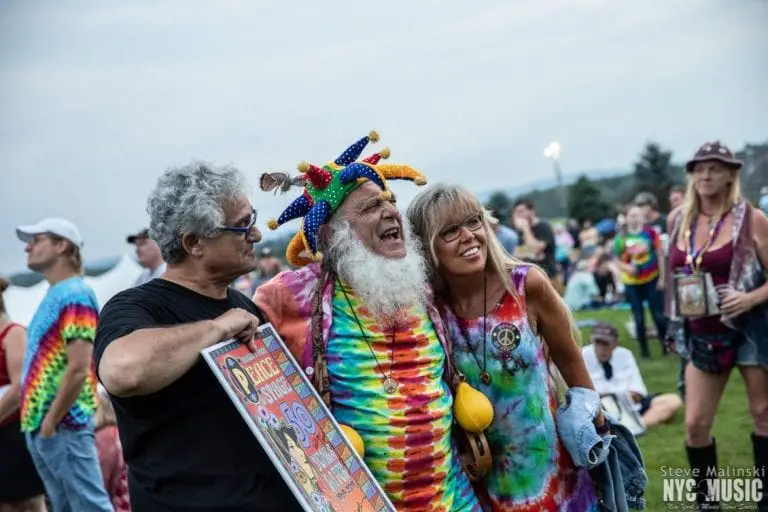 Some rain changed the original plans for the night, but the screening of the Woodstock documentary film still took place in the pavilion. This change didn't dampen any spirits though; while various artists' performances were shown from the 1969 festival many original attendees were giving as much as standing ovations.
Check out a few images from yesterday's happenings at Bethel Woods, and stay tuned to NYS Music for more on this Woodstock anniversary weekend. Bethel Woods continues the celebration with performances by Ringo Starr, Blood, Sweat & Tears, and Edgar Winter (Friday), Santana and The Doobie Brothers (Satruday), and John Fogerty, Tedeschi Trucks Band, and Grace Potter and the Nocturnals (Sunday).
Tourism at the site this weekend is restricted to only those who have tickets and travel passes specific to each day.