Interview: The Infamous Stringdusters – One for All and All for One
With musical seeds from Boston's prestigious Berklee College of Music, where founding members Chris Pandolfi and Andy Hall attended and met, planted in the fertile soil of Nashville, TN, the The Infamous Stringdusters (Andy Falco [guitar], Chris Pandolfi [banjo], Andy Hall [dobro], Jeremy Garrett [fiddle], and Travis Book [double bass]) have cultivated a sound yielding a self-described fusion of All-American bluegrass and rock.
Formed in 2007 and experiencing some early lineup changes, the band is now past the decade mark and getting stronger by the year. I spoke with the Andy Falco (a Long Island, NY native) before seeing them at a scheduled stop at the Wall Street Theater in Norwalk, CT, part of the band's 2019 fall mid-Atlantic/ Southeast tour.
Mickey Deneher: What has enabled the band to continue as a creative unit for over 10 years?
Andy Falco: Everybody has a lot of respect for each other, personally and musically. I trust my band mates' instincts and that trust is reciprocated. One thing I have heard a lot about us from engineers and people we have worked with is, "Wow you guys really are a democracy." Normally bands say, "We're a democracy," but it's always one or two guys that are really making all the decisions. If I have an idea that I swear is the best idea for something and somebody else in the band is like, "I don't know. I think this way would be better." I trust that. It's how we operate on any decisions, musical or otherwise. Having that trust for each other allows us go forward. There are no egos or any of that bullsh*t. It's all about trying to make the best music. You need to trust your boys.
The band has been rewarded for their creative efforts by capturing three International Bluegrass Music Association awards in 2007 (Emerging Artist of the Year, Album of the Year for Fork in the Road (in a tie with J.D. Crowe & The New South's album Lefty's Old Guitar, and Song of the Year for the album's title cut). They were also awarded a 2011 International Bluegrass Music Association nomination (Instrumental Group of the Year), a 2011 Grammy nomination (Best Country Instrumental Performance), and a Grammy win for Laws Of Gravity as Best Bluegrass Album in 2018.
MD: What were you guys feeling when you won your Grammy for Laws of Gravity?
AF: I will describe to you the scene. We were sitting there in the row and the category comes up. You could feel the seats in our row just shaking because everyone's leg was bouncing up and down. We're nervously waiting and when you get the announcement and it's like, "Holy Sh*t." It's a shock. It's an amazing thing, an amazing experience. It's a special thing.
There are no egos or any of that bullsh*t. It's all about trying to make the best music. You need to trust your boys.

Andy Falco
I don't know if there are other bands in our corner of bluegrass, the jammier side of bluegrass that have been recognized in that way. For us, we felt like it was for all of the bands in our corner. Hopefully more bands, our peers in our world, will also be nominated and be winning Grammys.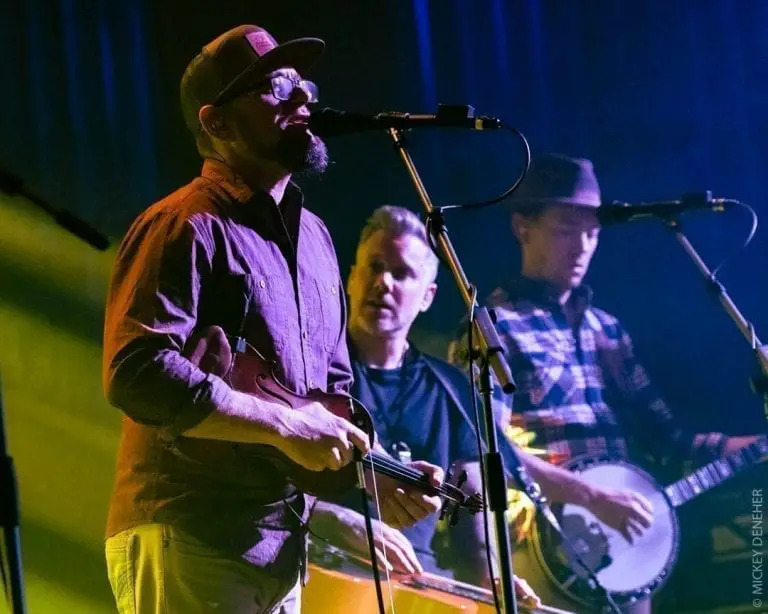 Of course, the next day you're already on to thinking about the music, because that's the most important thing. You don't do this to win awards. But to be recognized, it's an honor. You have that trophy, as my daughter calls it "the singing trophy." I have it on the piano and every now and again if you are feeling that self-doubting, you can look up at that and get that feeling of being recognized. We are blessed that we had that opportunity.
MD: It's a confirmation to you that the decision was right and the trip was worth it.
AF: A great way to describe it.
Not sitting on their laurels, in 2019 the band put out its 9th studio album Rise Sun. This project looked to interject components of their live show into the creative recording process.
MD: Was there pressure going in to record Rise Sun after winning a Grammy?
AF: I can speak for myself, that in my mind I didn't feel pressure. I felt like I just wanted to make a record that reflected our art as accurately as Laws of Gravity did. If we made what we felt was a good record and was what we wanted to say, then that would be a success to me.
In the end I felt even better about the record we made. That's normal. As you evolve as an artist, as a band you're making different records. You should feel like your latest record is your best.
Rise Sun reflects us now. What we are now. Go back to Things that Fly or another record and that reflected us then. As long as you are feeling good about the art that you are making, and the music your making, and feel like it's reflecting and it's honest music, then that is a success to me. No matter what awards or anything.
I hope people like it. You can't chase that. That's not really going to get you your best art. You have to chase from within and hopefully be able to have the album reflect that.
MD: Share the approach to the album.
AF: The idea was to approach the record as a studio album, but the experience be closely related to the way a live show would run down. In a live show, one of the things we really developed over the last few years is the idea of having these transitions in between songs where it is just a completely unknown improvised section of music. We know where we are coming from, we know where we are going to, but don't necessarily know what's going to happen in the middle. By developing that in our shows, it was something we (then) wanted to bring into the studio as well.
MD: The shift was of a technical nature also.
AF: This record was done differently. In the pre-production, we decided on which 13 songs we were going to actually record and, not only that, we decided exactly what the order they would appear on the record was. So before we went to the studio, we knew the order of the songs, the sequence, even where the breaks would be for the vinyl (a double album). So we decided to record it in that order.
We record everything live in the studio and we overdub little extra bits. The foundation of the track is cut live. You could feel that energy. The first cut on the album "Rise Sun" has this energized, fresh in the morning kind of feel to it. In contrast, the last song "Truth and Love" has this weariness in a way. That was at the end of these long sessions. You could feel energy that ebb and flow as the record goes, just as you would on a live set.
With a vow to producing quality recordings, the band's live show raises that commitment exponentially. The floor seats at the Wall Street Theater had been removed to allow a free and open space for the night, which was maximized by a joyous house. With the first set acting as a primer, the crowd exploded into dance, hands in the air, and singing from the first note of the second set until the night was over. A light show bathed those enraptured in the music as the band took everyone along on their improvisational jams and one of a kind segueing in and out of songs. It may have been a cold November Sunday night outside, but there was a barn-burning going on inside with The Infamous Stringdusters.