Yam Yam with special guest Hilltop to play in Saratoga Springs
SARATOGA SPRINGS – Jazzy jam band Yam Yam is coming to the capital region on Friday, October 13th. Yam Yam is a band dedicated to the exploration and creation of unique music. The group brings diverse influences to the band, encompassing jazz, gospel, jam, and funk.
Michael Dempsey's piano and organ expertise is rooted in the traditions of jazz and gospel, and offers hints of the vibrant rhythms of a New Orleans boogie sound. The foundation of funk is laid down by Xander Moppin, a skilled bassist. Tyler (Kokko) Fuller keeps the band's rhythm in check with his impeccable drumming skills, while his brother Tom Fuller adds a groovy psychedelic vibe with his guitar solos. Lastly, Jason Mescia's master saxophone playing brings everything together as he draws sonic inspiration from legends like Eddie Harris and John Coltrane.
Together, these musicians generate an electrifying, soulful sound that is bound to encourage audiences to jam out with the band. Yam Yam has embarked on a musical journey across the United States, sharing their captivating jam band music with many different audiences.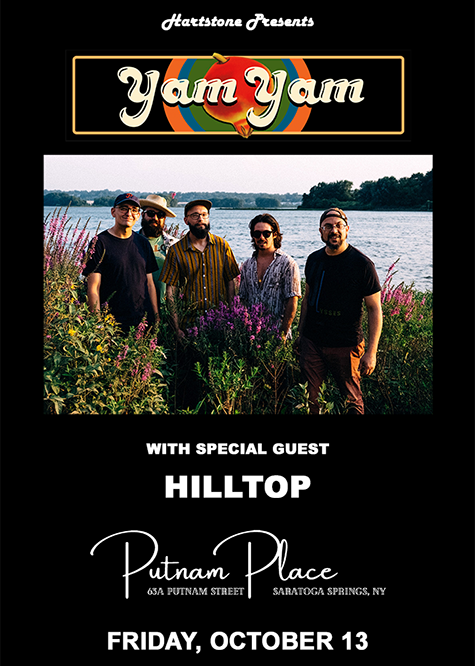 Joining Yam Yam is special guest Hilltop. Hilltop is a well-known and beloved capital region-based band from Albany, NY. Hilltop is composed of four band members, and they specialize in the jam band genre. In the course of five years, the band has created a distinct identity marked by their carefully composed originals, talented improvisations, and a diverse range of covers. Hilltop is a collective of young and passionate musicians who are enthusiastic about sharing their music and captivating audiences at the same time.
For a fun-filled night and the chance to see not one but two "jam bands" perform live, come out to Putnam Palace in Saratoga Springs. Tickets are on sale now!
TICKET INFORMATION
Tickets are on sale now for $15 if bought in advance and $18 if bought on the day of the show. The show will take place on October 13th from 9:00 p.m. to 12:30 a.m. at Putnam Place (63a Putnam Street, Saratoga Springs, NY 12866). This is an 18+ show. For more information, visit https://theticketing.co/e/yam-yam-2023