Great White brings Slaughter to Rivers Casino, October 27th
SCHENECTADY – Rock enthusiasts: this is for you! Come rock out and unleash your inner guitar heroes as classic hard rockers, Great White and Slaughter, take the stage at Schenectady's Rivers Casino & Resort on Friday, October 27.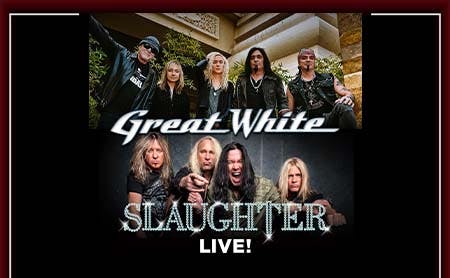 Great White has passionately intertwined the explosive sounds of blues and rock since their emergence in the early 1980s. The band commonly receives recognition for their arena anthems like 'Once Bitten, Twice Shy,' and 'Rock Me'. Great White has achieved numerous career successes such as global album sales exceeding 10 million, six Billboard Top 100 hits, two platinum records, and four chart-topping appearances on MTV. Great White has also shared stages with rock legends such as Judas Priest, and the band has also toured alongside other well known bands like Slaughter, Vixen, Skid Row, and more. Great White continues to excite their audiances with electrifying and powerful live performances.
Slaughter got their start as a band in 1990 with their double-platinum debut album, Stick It to Ya. Following this triumphant debut, Slaughter proved their live performance talents after the release of the gold-certified five song EP, Stick it Live. The band continued their climb to rock and roll fame with the release of their second studio album, The Wild Life in 1992. This album ended up impressively taking the 8th spot on the Billboard charts, and swiftly earned platinum certification. Even after three decades of rocking the stage, Slaughter maintains a strict touring schedule, performing around 40 to 50 shows annually at numerous venues, including some international appearances.
These two iconic bands are set to deliver a memorable evening filled with timeless hard rock classics. Get your tickets below to join in on the fist-pumping rock n' roll with the bands at Rivers Casino and Resort.
TICKET INFORMATION
Tickets are on sale now starting at $45. The event will be held at Rivers Casino Event Center in Schenectady on October 27. Doors will open at 6:00 pm and the show starts at 7:00 pm. For more information visit https://www.etix.com/ticket/online/performanceSale.do?method=switchSelectionMethod&selection_method=byPriceLevel